Mobile
Posting for a friend, looking for a Chauffer trained ex Mil driver to work in London, needs to live within and around South London .will work 40 hour week sometimes more driving RR and Mercedes GL and Lambo sometimes. Roughly will be on call when client is in country when client out of country stood down . South London Kent border area.
Must know London well!
If you contact me then I will pass on details.
More: Ex-Mill Chauffeur
I've been looking into this vulnerability recently (it was publicly released circa 1yr ago). Has anyone (forensic examiners???) investigated any incidents/seen it used in the wild? Would be interested to know.
Basically, it exploits a certain chipset used in wireless mice/keyboards and the proprietary protocol used therein. Although the protocol runs on the 2.4ghz frequency, being proprietary it's not bluetooth or wifi based. Attacker can 'listen' for vulnerable devices, and then submit keystrokes to the receiving usb dongle which are in turn executed on the victim machine. I've tested it against myself, and obtaining remote shell access to the victim device couldn't be easier. Remediation is simple – don't use wireless keyboards or mice. However, if you want to use them just make sure they are not vulnerable. Check out Bastille's Mousejack web page for more info on specific vulnerable devices.
Might be one for TSCM (or maybe protection) folks to consider advising against.
See original article: Mousejacking
Brazilian Grand Prix organisers have arranged for "heavy police reinforcements" around the Interlagos track following the armed robbery against Mercedes Formula 1 team members on Friday night. A minibus carrying Mercedes personnel was held up at gunpoint1 after leaving the track, as robbers stole valuables . Fortunately no-one was hurt. With members of Williams, and officials from the FIA, also experiencing close calls as armed robbers targeted F1 personnel, the issue of safety became a big talking point on qualifying day. Lewis Hamilton said it was "frustrating" that similar incidents seemed to occur on a regular basis at the Brazilian GP, adding that he felt "the people at the top need to take action to keep everyone safe". In response to the situation, extra security has been arranged to help protect the public around the Interlagos circuit. A statement issued by the FIA said: "The circuit has informed all of the events stakeholders that the S o Paulo police force has taken additional measures after these regrettable incident "Heavy police reinforcements will be on duty for the remainder of the event." F1 personnel have also been advised to remove passes and change out of team uniform to prevent being singled out by criminals for attack.
Hamilton, speaking before the extra measures were announced, added: "I hope there is some way we can move forward so that doesn't happen ever again. "I was horrified to hear what happened – I'm very close with all the guys who got pulled aside. "You can't imagine what they are feeling or going through at the time.
"It's no good just the bosses having security and myself having security . It should be for the whole paddock."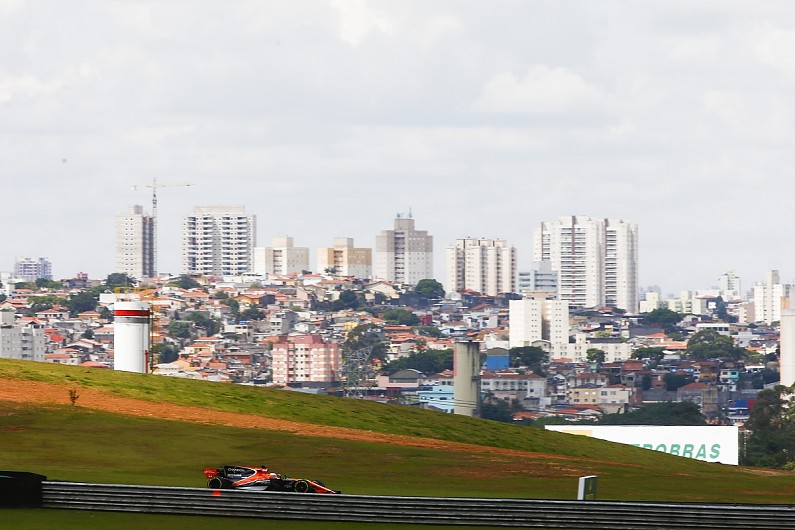 Mercedes boss Toto Wolff said that teams should not have to face such situations, that have now become common around Brazil's F1 race. "We shouldn't be needing armed vehicles, bulletproof cars, agents in order to make it safe from the race track to the hotel," he said. "But then this is the circumstances and maybe our approach in the past was a bit lenient; easy, because Brazil is a cool country.
"But it must have been a really scary moment for the guys. "We all left just about at the same time at 10 o'clock, and being stopped and having a gun pointed at you must be awful. "When we came to the circuit it looked like civil war broke out – so many police officers were on the track .
Let's see what happens tonight, but it shouldn't happen."
References
^ held up at gunpoint (www.autosport.com)