lifestyle
An ex-Commando has spoken of his shock and anger after callous thieves took two prestige cars from the family s Carnoustie driveway in an audacious overnight raid. Calum Owens black Range Rover Evoque and his wife s Audi Q5 Quattro were taken from their Anderson Place home in Carnoustie overnight on Thursday. They were later found badly damaged and abandoned in Dundee.
The damaged Range Rover
Mixed martial arts trainer Mr Owens said his Range Rover may be written off because of the damage it has sustained, with the other car also requiring repairs likely to run into four figures. And he condemned the culprits who he said had destroyed the family s sense of peace and security just months after moving into a new home. The privately-registered cars, both black, had been parked outside the couple s home before being taken sometime between 11.30pm on Thursday and 3am the following morning.
They broke in via the front door, got the keys and have hit the jackpot as far as they were concerned, said 38-year-old Mr Owens.
In one sense we re lucky that s as far as they got, but they have taken the sense of security and safety away from us as a family.
I m a light sleeper but I never heard anything.
The first I heard was when police knocked on the door at around 4am after a neighbour reported vehicles haring about.
Police recovered the cars in Dundee s Balgowan Avenue within hours, but both bear the heavy scars of the crooks off-roading exploits.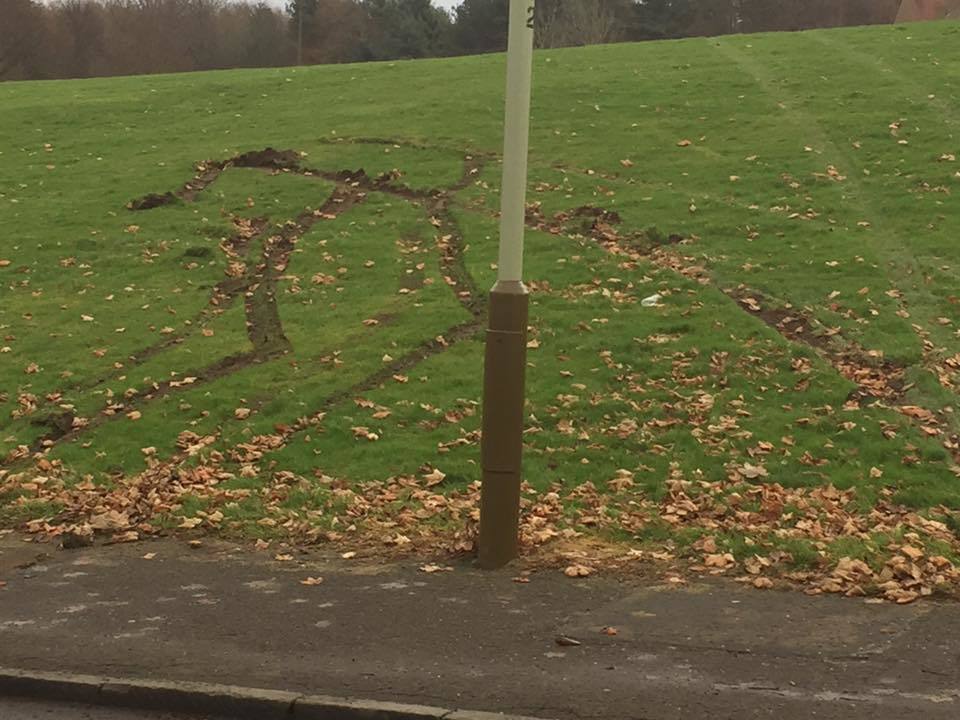 The Range Rover has extensive damage to its suspension and may be written off and the Audi has suffered damage to its alloys, but may be more badly damaged than that, said Mr Owens.
It s in the hands of the insurance company now but I am just so upset and angry that someone could do this.
It is beyond me why someone would want to do this to someone, I cannot understand it . My wife is very upset, we all are. Scenes of crime officers were at the couple s house yesterday to search for forensic evidence which might lead them to the culprits.
A battered alloy on the Audi
A Police Scotland spokesperson said: Police continue to make enquiries into the incident and to trace those responsible.
Anyone who was in the area of Anderson Place, Carnoustie or Balgowan Avenue, Dundee and saw or heard any suspicious activity is asked to contact Police Scotland on 101.
Alternatively information can be passed to the charity Crimestoppers on 0800 555 111.
We would again urge residents to remember the importance of car and home security and we issue the following advice:
Keep car and house keys in a secure place inside your home, away from the front door and out of sight, not on display on a hook, table or other furnishing, where they may be easily seen and taken.
Make sure windows and doors are locked, don t leave an open invitation for thieves to enter and make a quick grab for car or house keys.
Never leave your car unattended with the keys in it .
Particularly in cold weather, when it might be tempting to leave your car running whilst the windscreen and windows defrost.
It s preferable to keep your vehicles in a locked garage, however if you are parking on the street or in a driveway, consider parking in a well-lit area and consider whether there is CCTV coverage.
Look out for your neighbours and report any suspicious activity to Police Scotland.
A former security guard who worked at an Argos store in North London has been elected president of The Gambia. Adama Barrow ended Yahya Jammeh s 22-year-long rule in a shock victory following Thursday s elections. The 51-year-old is set to be president for the next five years and marks a change of leadership in the country . However he only emerged onto The Gambia s political scene some six months ago.
Adama Barrow won by 263,515 votes 45 percent of the total while Yahya Jammeh finished in second place with 36 percent.
Rule for a billion years
According to Sky News1, Yahya Jammeh had vowed to rule for a billion years . During the election campaign, Jammeh said his victory would be the biggest landslide in the history of the country. He appeared on television to concede saying: I take this opportunity to congratulate Mr Adama for his victory . It s a clear victory .
I wish him all the best and I wish all Gambians the best. Jammeh who came to power in 1994, also offered the President elect help with the transition. Human rights groups have heavily criticised Jammeh s rule of The Gambia and accused him of repressing the media, opposition and being anti-gay .
According to the BBC2, in 2014, he called homosexuals vermin .
A passion for Arsenal Football Club
According to The Independent3, 51-year-old President elect Adama Barrow spent over three years living in London when he was younger. He worked in an Argos store on Holloway Road as a security guard, close to the Emirates Stadium where Arsenal Football Club play. The President elect is said to have developed a passion for his local team.
He later moved back to his home country and set up his own estate agency. Barrow had been chosen by a group of political parties who rallied together to try and end Jammeh s 22-year-long rule.
Cheering in the streets
The Guardian4 reported that as soon as the result had been announced people went out onto the streets of the capital Banjul to celebrate. Cars were screeching their horns and loudly playing music while children and their families gathered to sing.
People also took to the internet to celebrate following a 24 hour internet blackout on the day of the election.
References
Netflix hacker drama Mr Robot is so well researched that if something is possible in the show, you can be sure it s possible in real life . So the first episode of season two should give at least a moment s pause to everyone busily wiring their Amazon Dot to the Nest thermostat, Bosch smart washing machine and wi-fi-enabled kettle. A high-ranking member of the board of the show s fictional multinational corporation returns to her swanky, futuristic apartment to relax . First, her alarm goes off . Then her projector turns on by itself as a screen descends from the ceiling . She manages to turn these off, then the lights start flickering, loud music bursts from her speakers, water starts boiling and finally the phone rings . No one s on the line .
It s like a horror film . Understandably she flees.
From science fiction to science fact
In May, researchers at the University of Michigan, working with Microsoft, discovered they could pull off disturbing tricks over the internet, from triggering a smoke detector at will to planting a backdoor PIN code in a digital lock that offers silent access to your home.
If these apps are controlling non-essential things like window shades, I d be fine with that . But users need to consider whether they re giving up control of safety-critical devices, says Earlence Fernandes, one of the University of Michigan researchers . The worst-case scenario is that an attacker can enter your home at any time they want, completely nullifying the idea of a lock. The spread of the internet of things (IoT) is well underway . This year has seen Samsung debut a fridge that can play music and check the weather, LG announce a wardrobe that steams and smooths your clothes while Intel s Tiny House includes a touchpad to control music, TV and weather news.
Soon we ll be finding smart functionality in everything from baby monitors to our jackets . Some 83 million cars with smart functions, as well as 2.3 billion computers, will be sold this year, according to Niall Murphy, chief executive and co-founder of IoT smart platform EVRYTHING. His company expects to fit some kind of smart functionality to ten billion items of clothing and roughly 20 billion food and drink packaged items . Unilever sells two billion items every day, he says . As this becomes smart, it will make Unilever into one of the biggest media companies in the world.
The dangers
But there are serious privacy and security concerns . US director of national intelligence James Clapper recently told Congress that smart homes give intelligence agencies ample opportunity to spy on targets . If your smart TV is watching you, isn t that literally a scene from 1984? Mikko Hypponen, chief research officer at security firm F-Secure, sees cars as an obvious target for hackers . In 2015, hackers discovered vulnerabilities in Chrysler s Jeep Cherokee that allowed for vehicles to be controlled remotely from thousands of miles away and managed to open BMW vehicles remotely.
Someone s going to wake up one morning to do the school run and find they can t start the car until they pay up a serious amount of bitcoins, Mr Hypponen warns . The internet of things allows much more visible crimes than we re used to in the consumer space and certainly much more painful.
When it comes to the smart home, security researchers biggest fears are the ability to force entry and the chance to engage in hackers latest favourite trick, Trojan horse ransomware, which locks down computers completely until a fee is paid, usually in bitcoins. In February, hackers planted ransomware on Los Angeles hospital the Hollywood Presbyterian Medical Center s main server and demanded $3.6 million to release the hospital, although chief executive Allen Stefanek negotiated the fee down to $17,000 before paying . It was the quickest and most efficient way to restore our systems and administrative functions, he says.
Dave Palmer, technology director at security firm Darktrace, warns: I suspect we ll see the automatic targeting of assets that really will affect your day-to-day life and you d pay to unlock pretty quickly . MRI scanners are often mentioned in healthcare, of course, but we should expect this to happen in the home.
Someone s going to wake up one morning and find they can t start the car until they pay up a serious amount of bitcoins
If traditional spam crooks can pivot to taking out the things that consumers really care about in their household, I think they could make a lot of money . My family would pay to restore the smart TV if it stopped working . So you ve got a $500 TV, would you not pay the extortion of $100 to get that back under your control? Dom Fendius, co-founder of connected clothing company Appaparel, adds: There s been lots of talk about a firewall for your home since I first started working in the internet of things 15 years ago .
They re still talking about it now, but there s very little out there. F-Secure does offer one solution called Sense, which routes traffic to all the smart devices in a building through a secure network, extending to mobiles when outside the building . GCHQ s controversial Great British Firewall may offer protection from international hackers, although white hat hacker Jamie Woodruff explains that it s easy to hack into any IoT network from within the UK, using simple tricks such as fake wi-fi base stations.