lifestyle
Security services thwarted 13 potential terrorist attacks on the UK in less than four years and are running more than 500 live investigations at any time, Britain's most senior counter-terrorism officer has revealed. Assistant commissioner Mark Rowley disclosed the figures as he launched a major appeal for the public to report any suspicions and act on their instincts, stressing that help is critical to foiling atrocities. The Metropolitan Police officer said that since June 2013, police and intelligence agencies have disrupted 13 terrorist attack plots. The figure is one higher than the last tally given in October. Information from members of the public has contributed to stopping some of those attacks, while figures show it has assisted counter-terrorism police in a third of the most high-risk investigations. Describing the contribution as 'extraordinary', Mr Rowley said: "Some of that information is a change in someone's behaviour, some of that's about suspicious activity. "Sometimes that public information has actually started an investigation .
Other times it's part way through and it corroborates some things or adds to things we already know. "The public are making a great contribution which is critical to us all working together to protect ourselves from terrorism." Investigators have been making terror-related arrests at a rate of close to one a day on average since 2014, he said. The official threat level for international terrorism has stood at severe – meaning an attack is 'highly likely' – for more than two years. Mr Rowley said that 'tempo' of activity continues . He identified a host of challenges including encrypted communication methods, propaganda and the range of possible attack methods.
"Now we worry about everything from fairly simple attacks with knives or using vehicles all the way through to the more complex firearms attacks," he said. "All of that means that our job remains difficult . We've got over 500 investigations at any one stage."
In the year to March, the anti-terrorist hotline received more than twice the number of calls on the previous 12 months, with 22,000 people making contact. Mr Rowley said: " Even though the public are doing a great job, we want more help." As part of the Action Counters Terrorism campaign, a podcast has been produced revealing previously untold stories of how terrorist attacks on UK soil were prevented, featuring accounts from detectives, bomb disposal and surveillance officers. Mr Rowley said the aim of releasing new material was to give an insight into how terrorists might prepare and provide more confidence for the public to report any suspicions. He said: " I think what often happens is a member of the public will see something, or hear something, and think 'well that's a bit odd, but maybe I'm overreacting and I won't bother telling anybody'. "Us putting more information out there, the aim is that it gives that bit more confidence for the public.
"We will respond carefully, we won't overreact. "If it turns out to be a call where you made it with good intent but actually there was no problem at the end of it, that's fine. "We'd rather have many calls like that, rather than miss out on the critical one that helps us stop an attack."
Security minister Ben Wallace welcomed the campaign, saying: " The horror of recent terrorist attacks in Europe and beyond is a shocking reminder of the threat we all face."
An ex-Commando has spoken of his shock and anger after callous thieves took two prestige cars from the family s Carnoustie driveway in an audacious overnight raid. Calum Owens black Range Rover Evoque and his wife s Audi Q5 Quattro were taken from their Anderson Place home in Carnoustie overnight on Thursday. They were later found badly damaged and abandoned in Dundee.
The damaged Range Rover
Mixed martial arts trainer Mr Owens said his Range Rover may be written off because of the damage it has sustained, with the other car also requiring repairs likely to run into four figures. And he condemned the culprits who he said had destroyed the family s sense of peace and security just months after moving into a new home. The privately-registered cars, both black, had been parked outside the couple s home before being taken sometime between 11.30pm on Thursday and 3am the following morning.
They broke in via the front door, got the keys and have hit the jackpot as far as they were concerned, said 38-year-old Mr Owens.
In one sense we re lucky that s as far as they got, but they have taken the sense of security and safety away from us as a family.
I m a light sleeper but I never heard anything.
The first I heard was when police knocked on the door at around 4am after a neighbour reported vehicles haring about.
Police recovered the cars in Dundee s Balgowan Avenue within hours, but both bear the heavy scars of the crooks off-roading exploits.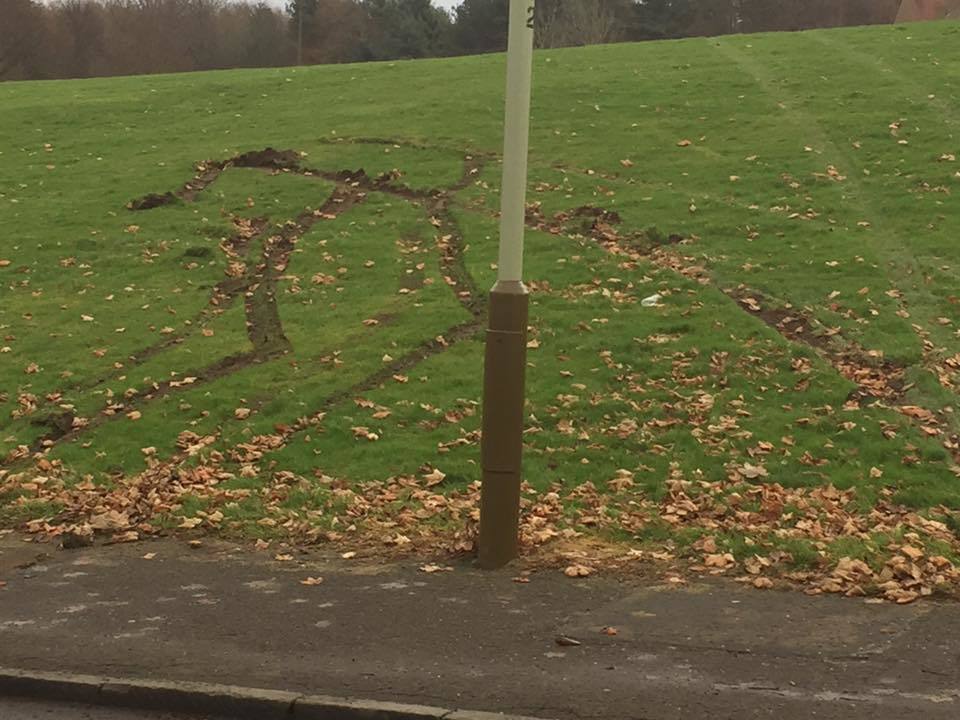 The Range Rover has extensive damage to its suspension and may be written off and the Audi has suffered damage to its alloys, but may be more badly damaged than that, said Mr Owens.
It s in the hands of the insurance company now but I am just so upset and angry that someone could do this.
It is beyond me why someone would want to do this to someone, I cannot understand it . My wife is very upset, we all are. Scenes of crime officers were at the couple s house yesterday to search for forensic evidence which might lead them to the culprits.
A battered alloy on the Audi
A Police Scotland spokesperson said: Police continue to make enquiries into the incident and to trace those responsible.
Anyone who was in the area of Anderson Place, Carnoustie or Balgowan Avenue, Dundee and saw or heard any suspicious activity is asked to contact Police Scotland on 101.
Alternatively information can be passed to the charity Crimestoppers on 0800 555 111.
We would again urge residents to remember the importance of car and home security and we issue the following advice:
Keep car and house keys in a secure place inside your home, away from the front door and out of sight, not on display on a hook, table or other furnishing, where they may be easily seen and taken.
Make sure windows and doors are locked, don t leave an open invitation for thieves to enter and make a quick grab for car or house keys.
Never leave your car unattended with the keys in it .
Particularly in cold weather, when it might be tempting to leave your car running whilst the windscreen and windows defrost.
It s preferable to keep your vehicles in a locked garage, however if you are parking on the street or in a driveway, consider parking in a well-lit area and consider whether there is CCTV coverage.
Look out for your neighbours and report any suspicious activity to Police Scotland.
A former security guard who worked at an Argos store in North London has been elected president of The Gambia. Adama Barrow ended Yahya Jammeh s 22-year-long rule in a shock victory following Thursday s elections. The 51-year-old is set to be president for the next five years and marks a change of leadership in the country . However he only emerged onto The Gambia s political scene some six months ago.
Adama Barrow won by 263,515 votes 45 percent of the total while Yahya Jammeh finished in second place with 36 percent.
Rule for a billion years
According to Sky News1, Yahya Jammeh had vowed to rule for a billion years . During the election campaign, Jammeh said his victory would be the biggest landslide in the history of the country. He appeared on television to concede saying: I take this opportunity to congratulate Mr Adama for his victory . It s a clear victory .
I wish him all the best and I wish all Gambians the best. Jammeh who came to power in 1994, also offered the President elect help with the transition. Human rights groups have heavily criticised Jammeh s rule of The Gambia and accused him of repressing the media, opposition and being anti-gay .
According to the BBC2, in 2014, he called homosexuals vermin .
A passion for Arsenal Football Club
According to The Independent3, 51-year-old President elect Adama Barrow spent over three years living in London when he was younger. He worked in an Argos store on Holloway Road as a security guard, close to the Emirates Stadium where Arsenal Football Club play. The President elect is said to have developed a passion for his local team.
He later moved back to his home country and set up his own estate agency. Barrow had been chosen by a group of political parties who rallied together to try and end Jammeh s 22-year-long rule.
Cheering in the streets
The Guardian4 reported that as soon as the result had been announced people went out onto the streets of the capital Banjul to celebrate. Cars were screeching their horns and loudly playing music while children and their families gathered to sing.
People also took to the internet to celebrate following a 24 hour internet blackout on the day of the election.
References