french
French voters have started casting ballots for the presidential election in a tense first-round poll that is seen as a test for the spread of populism around the world. More than 60,000 polling stations opened on Sunday for voters who will choose between 11 candidates in the most unpredictable election in generations.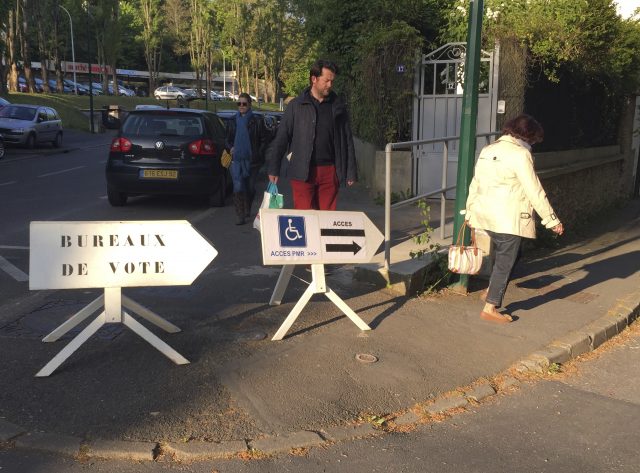 Polling stations open in Paris. (AP/Bertrand Combaldieu)
Opinion polls point to a tight race among the four top contenders vying to get into the May 7 presidential run-off that will decide who becomes France s next head of state. Polls suggest far-right nationalist Marine Le Pen and Emmanuel Macron, an independent centrist and former economy minister, were in the lead. However, conservative Francois Fillon, a former prime minister, appeared to be closing the gap, as was far-left candidate Jean-Luc Melenchon.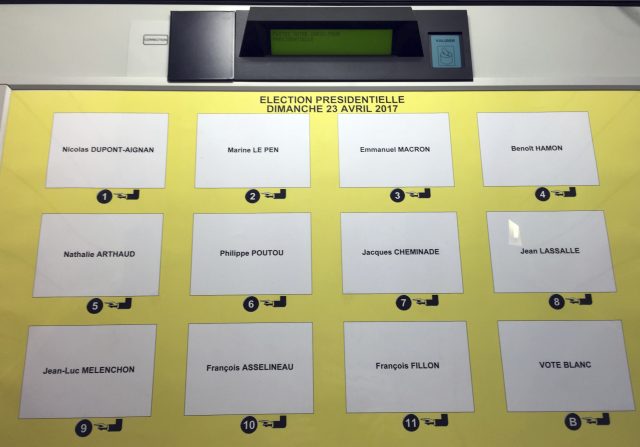 A voting machine displays the names of the 11 candidates. (AP/Bertrand Combaldieu) France s 10% unemployment rate, its struggling economy and security issues topped concerns for the 47 million eligible voters. If Ms Le Pen or Mr Melenchon win a spot in the run-off, it will be seen as a victory for the rising wave of populism reflected by the votes for Donald Trump and Brexit.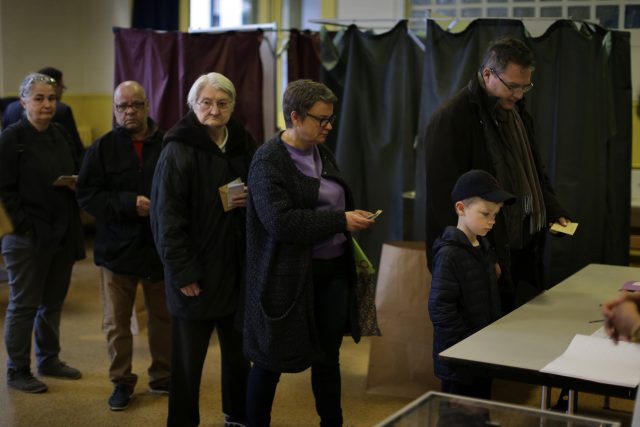 People line up before casting their vote. (AP/Emilio Morenatti)
Mr Macron and Mr Fillon are committed to European unity and would reform employment rules.
Early voting began on Saturday in France s overseas territories.
A 1.4m grant has been given towards paying for the huge security operation for the Champions League final being held in Cardiff. The UK Government has approved a Special Grant application made by the South Wales Police and Crime Commissioner to cover the additional costs of policing the game.
Read More
The grant had been applied for before the attack in Westminster a fortnight ago. The final will be held at the Principality Stadium which will be renamed The National Stadium of Wales for the event.
Security measures were ramped up at UEFA Euro 2016 in France (Photo: Getty Images Europe)
The city is set to see 250,000 fans in the city in the week of the final and police have said it will be their biggest operation ever. The amount of security in the city will be unprecedented . The number of officers is not expected to exceed the huge operation for Nato but the amount of security measures are likely to be bigger in the wake of terror attacks around the world. Staff working near the stadium have been warned they will need to carry identification and could be searched at any point in the build up.
Video Loading
Video Unavailable
Click to play Tap to play
The video will start in 8Cancel
Play now
Watch this video again
Watch Next
Video will play in
How to get your Champions League Final tickets
There will also be a focus on hostile vehicle mitigation around the city. Secretary of State for Wales Alun Cairns said: Cardiff has consistently proven its calibre in delivering high profile events on an international stage . The eyes of the world will once again be upon us as we prepare to host the Champions League finals.
The safety and security of the hundreds of thousands of people set to flood into the city and surrounding areas at this time is of paramount importance.
Security fencing erected for the Nato summit
"The UK Government is determined to ensure that Wales, and the UK, are seen in the best possible light on the worldwide stage and the policing of the event will be crucial in achieving this.
I am delighted that we have been able to provide this funding for South Wales Police.
Read More
"I know the whole city is looking forward to giving visiting supporters a wonderful welcome at what will be a safe and successful Champions League final later this year. Minister for Policing and the Fire Service, Brandon Lewis said: I am pleased to confirm that 1.4million in special grant funding has been allocated to support South Wales Police at the Champions League final in Cardiff.
An increased police presence on the streets of Cardiff on the eve of the NATO Summit (Photo: Western Mail)
"I am sure it will be a fantastic event for the city of Cardiff to host.
The UK Government has protected police funding since the 2015 Spending Review and it is right that in exceptional circumstances we provide additional resources in order to make sure we keep our communities safe and secure.
Mr Cairns added: "Wales has never seen a sporting event on this scale . The only event that comes close to the police security requirement was that of NATO.
"NATO was a security driven initiative . This is about being open and welcoming to the public to ensure that people who come to Cardiff, can be safe here and be supported admirably by the local police force to ensure that the event is a fantastic festival for Cardiff and the UK.
Read More
"We have been in discussions with South Wales Police for some time over resources that are needed in order to make sure that the Champions League is a great success for Cardiff, Wales and the UK.
"The special grant had been awarded to South Wales Police to ensure that its the showcase that we want it to be to demonstrate we are a global nation.
"This will have hundreds of millions of viewers and we are determined to show that Cardiff is an open and welcoming place."
German Government Commissioner for Information Technology Klaus Vitt | German Federal Ministry of the Interior
Klaus Vitt discusses his role protecting Germany from cyber attacks.
3/20/17, 7:54 PM CET
Updated 3/20/17, 8:10 PM CET
This article is also available in: German2
Read more: Hacked information bomb under Germany s election3
BERLIN Meet the man in charge of protecting Europe s largest country against the ever-changing threat of hacking: the German government s IT commissioner, Klaus Vitt. During an interview with POLITICO at the German Interior Ministry, Vitt described the country s current cyber threat level as increasingly critical, announced plans to cooperate with private companies and explained why his analysts believe most professional hacking attacks on Germany come from Russia or China.
In September, Germany elects a new parliament . Could the vote be manipulated by cyber attacks?
We have analyzed all processes during election day . Wherever we found weak spots, we have introduced measures and taken precautions. In Germany, there are no electronic voting machines or automation .
The vote, therefore, is not that big of a target . However, there s never a security of 100 percent.
You re talking about potential attacks on the IT network on election night . Another issue is cyber attacks that could happen in the run-up to the election . People are concerned that stolen material from hacks could be used to compromise candidates . Do they have a reason to be afraid?
The danger is real . This is why our Federal Office for Information Security (BSI) advises parliamentarians and their groups in the parliament how to protect themselves . It starts with using virus protection software on your private computer but certainly doesn t end there.
Have cyber attacks increased during the last couple of years?
Yes, the threat situation is becoming increasingly critical . We still observe many security breaches in software and hardware, as analyzed in the BSI s annual report on the state of IT security . This in itself is critical . At the same time, however, our society, economy and state are increasingly becoming more digitalized, which also makes them more vulnerable . On top of that, attackers are becoming more professional, and they are using more intelligent malware.
In 2015, a broad-scale cyber attack on the Bundestag, the lower house of the German parliament, made headlines . What consequences did the government draw from the incident?
The Bundestag is in charge of its own IT security . However, there have been numerous consultations on how the parliament should make its network more secure, and the government took part in them . These recommendations were put into action very consistently . The network and its security components were completely rebuilt from scratch.
Could foreign intelligence services be involved in attacks like the one in 2015?
We are dealing with very professional attackers, that s why only in rare cases can you identify them indisputably . We analyze serious attacks very thoroughly to find out from where they originate . In order to do that, we take patterns from comparable attacks in the past as a reference . Based on such analogies, one can say with a certain probability where those attacks originate from and those analogies suggest that a majority of attacks comes from Russia or China, at least geographically.
How can Germany protect itself?
Attackers want to produce the largest effect possible . That s why they target their attacks primarily against critical infrastructure.
With Germany s IT security law introduced in 2015, we have created legislation that focuses on such infrastructures . On the one hand, it introduces minimum standards for IT security: how operators need to protect themselves against cyber attacks . There are regular checks to make sure they still follow those standards . On the other hand, they are obliged to inform authorities about any critical IT security incidents . If operators are affected, they need to alert the BSI about it, which in turn can analyze it, assess the threat and inform other operators as fast as possible so that they can protect themselves in time. I would like to apply a similar model to other companies which are not operating critical infrastructure and the public administration.
In November 2016, Germany introduced a cyber security strategy: a plan for the country on how to protect itself and how to best react to cyber attacks. What about attacks that have already happened and data that may have been taken?
A cyber attack can have different goals . One aim can be to extract information . If you have no possibility to prevent this, you need to cut off access to the internet . This was one of the measures taken during the cyber attack on the Bundestag . From this moment on, no more information can be extracted. However, in the aftermath, it s difficult to detect where malware could possibly have had access to and which data has been extracted.
What measures are you taking?
To guarantee an appropriate IT security level, we will consolidate the data centers and the networks of the national government and its institutions. Today, we have around 1,000 rooms with servers: large ones, medium-sized ones, small ones . We will centralize them at three or four highly-protected, locations . The same thing will be done with the networks . This is how we will protect the administration with a high standard of IT security.
Another measure is expanding our Cyber Defense Center opened in 2011 . The goal is to always have a clear description of what s happening in cyber space . To do that, we will analyze and assess cyber incidents, with all national security agencies exchanging technical information about the incidents with each other . Needless to say, cyber space is not limited to just Germany. And there s another plan we are pursuing: In Germany, we have large international companies with their own cyber security units, who observe cyber attacks, similarly to what our Cyber Defense Center does .
Four DAX companies have joined forces in the so-called German Cybersecurity Organization (DCSO) cooperation . Our idea is to work with them through exchanging technical information . However, we need a contractual basis for that . This is about highly sensitive data.
When in 2015, a Bundestag subcommittee met to discuss the hacking attack, a BSI official told the MPs that only around 15 employees inside his office had the expertise to analyze and deal with such an attack . This doesn t sound like a lot of people?
The BSI is only one unit in our Cyber Defense Center . We have more experts in the Federal Criminal Police, in the Armed Forces, and in both our domestic and the foreign intelligence agencies.
Talking about personnel: Part of the cyber security strategy is hiring more cyber security experts . How easy or difficult is it to find candidates with the necessary expertise?
There is a great demand for IT security experts . The BSI has hired several people recently . It wasn t easy to fill those positions placing an ad in some newspaper wouldn t be enough .
All those positions could be filled; in the meantime, however, we have new open positions.
How attractive a job is, however, is not only defined by its salary but also by how exciting or dynamic its environment is and by its compatibility with having a family.
The interview has been edited and condensed for clarity.
Related stories on these topics:
References
^ Janosch Delcker (www.politico.eu)
^ Hacked information bomb under Germany s election (www.politico.eu)