family
An ex-Commando has spoken of his shock and anger after callous thieves took two prestige cars from the family s Carnoustie driveway in an audacious overnight raid. Calum Owens black Range Rover Evoque and his wife s Audi Q5 Quattro were taken from their Anderson Place home in Carnoustie overnight on Thursday. They were later found badly damaged and abandoned in Dundee.
The damaged Range Rover
Mixed martial arts trainer Mr Owens said his Range Rover may be written off because of the damage it has sustained, with the other car also requiring repairs likely to run into four figures. And he condemned the culprits who he said had destroyed the family s sense of peace and security just months after moving into a new home. The privately-registered cars, both black, had been parked outside the couple s home before being taken sometime between 11.30pm on Thursday and 3am the following morning.
They broke in via the front door, got the keys and have hit the jackpot as far as they were concerned, said 38-year-old Mr Owens.
In one sense we re lucky that s as far as they got, but they have taken the sense of security and safety away from us as a family.
I m a light sleeper but I never heard anything.
The first I heard was when police knocked on the door at around 4am after a neighbour reported vehicles haring about.
Police recovered the cars in Dundee s Balgowan Avenue within hours, but both bear the heavy scars of the crooks off-roading exploits.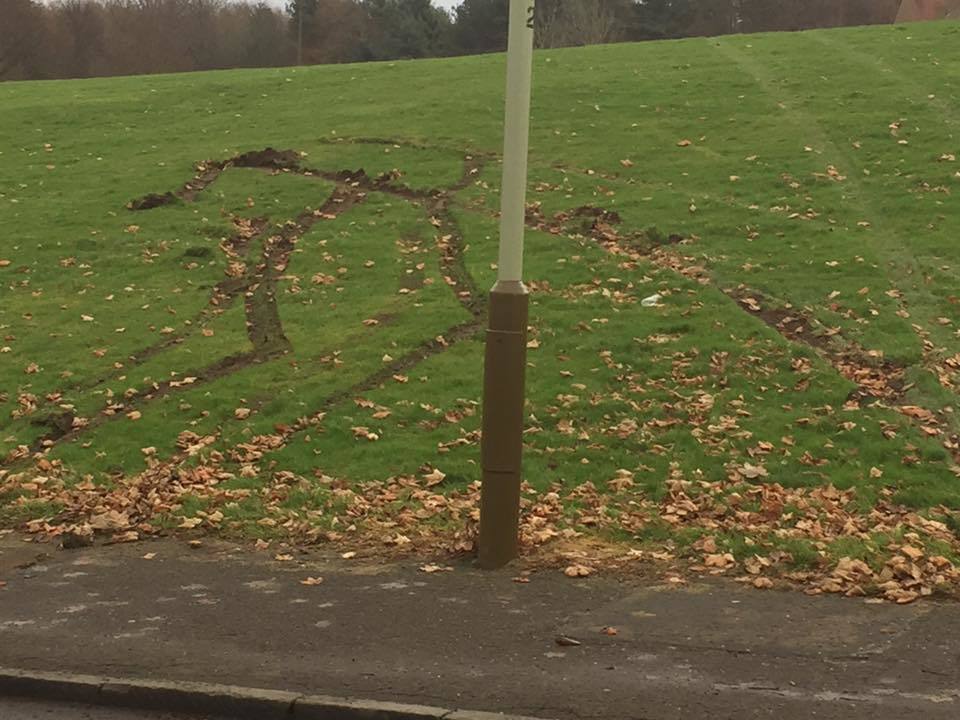 The Range Rover has extensive damage to its suspension and may be written off and the Audi has suffered damage to its alloys, but may be more badly damaged than that, said Mr Owens.
It s in the hands of the insurance company now but I am just so upset and angry that someone could do this.
It is beyond me why someone would want to do this to someone, I cannot understand it . My wife is very upset, we all are. Scenes of crime officers were at the couple s house yesterday to search for forensic evidence which might lead them to the culprits.
A battered alloy on the Audi
A Police Scotland spokesperson said: Police continue to make enquiries into the incident and to trace those responsible.
Anyone who was in the area of Anderson Place, Carnoustie or Balgowan Avenue, Dundee and saw or heard any suspicious activity is asked to contact Police Scotland on 101.
Alternatively information can be passed to the charity Crimestoppers on 0800 555 111.
We would again urge residents to remember the importance of car and home security and we issue the following advice:
Keep car and house keys in a secure place inside your home, away from the front door and out of sight, not on display on a hook, table or other furnishing, where they may be easily seen and taken.
Make sure windows and doors are locked, don t leave an open invitation for thieves to enter and make a quick grab for car or house keys.
Never leave your car unattended with the keys in it .
Particularly in cold weather, when it might be tempting to leave your car running whilst the windscreen and windows defrost.
It s preferable to keep your vehicles in a locked garage, however if you are parking on the street or in a driveway, consider parking in a well-lit area and consider whether there is CCTV coverage.
Look out for your neighbours and report any suspicious activity to Police Scotland.
For many parts of the world, it is hard to predict which Donald Trump will enter the White House on January 20 . Will it be the Donald Trump who promised to decimate ISIS in 100 days, or the Donald Trump who promised to avoid an Iraq-like quagmire ? Will it be the Donald Trump who campaigned on building up a decrepit U.S .
military, or the Donald Trump who said he would slash military spending1 to balance the budget ? Will it be a Donald Trump who is eager to strong-arm China at the negotiating table, or the Donald Trump who promised to discard the Trans-Pacific trade deal designed to increase American leverage over the region? While Trump continues to regularly contradict his own supposed views on U.S . foreign policy, his approach to the U.S . southern border is clear . He talked a lot about building a wall while running for president . Since winning, he s repeatedly emphasized the seriousness of his promise.
You think we are playing games, Trump said earlier this month, at a rally in Wisconsin2 .
We re going to build the wall, okay ? Believe me . We re going to build the wall . We have to . We have got to stop the drugs from coming in and the wall is going to be a big, big factor. In the Trumpist view, the lack of a continuous border wall between the U.S . and Mexico facilitates the flow of drugs, undermines U.S .
wages, and provides a potential gateway for terrorists trying to find their way into the United States . The wall is a concrete way to address fears among Trump s base surrounding immigration, an issue that gives concerns over jobs, wages, and terrorist attacks a common focal point along the southern border . This worldview is so compelling as a political vision that it has sometimes caused Trump s national security team to back it up with fabrications . Michael Flynn, Trump s choice for national security adviser, has wrongly claimed3 that there are Arabic letters written on the backs of signs along the Mexico border, intended to guide terrorists into the United States. John Kelly, the retired Marine general who Trump has chosen to lead the Department of Homeland Security, has his own pattern of exaggerating the border threat . Between 2012 and his retirement in early 2016, Kelly served as head of U.S . Southern Command .
In this role, he coordinated all U.S . forces in the Western Hemisphere south of Mexico, including the Caribbean and Guant namo, which is home to the hemisphere s largest overseas U.S . military base . As Obama trimmed the military s budget with the sequester, and prioritized Asia and the Middle East over the relatively peaceful Western Hemisphere, Kelly complained that the budget cuts4 were undermining regional security. In a 2014 interview5, he said that the flow of drugs and instability in Latin America posed an existential threat to the United States . During a March 2015 hearing before the Senate Armed Service Committee, Sen . Mike Lee .
R-Utah, asked him to explain why the southern border posed such a large threat . Kelly responded with these words:
there s 40,000 Americans that die every year from the drugs that move up through my part of the world, and into Bill s Adm . William Gortney, who was then head of Northern Command, and into our homeland 40,000 people a year. You know, since 9/11, there s half a million people have died from narco terrorism, as we call it in down where I live narco terrorism . Five hundred thousand Americans have died . Very few have died from, you know, traditional terrorism, if you will, since 9/11 . It costs our country $200 billion a year to deal with the people that are into drugs but are not, you know, dying .
So I see that as a huge, huge, huge threat. Kelly s first claim drugs kill roughly 40,0006 Americans each year is accurate . It is also true that drugs have killed more than half a million Americans in the 15 years since 9/11. But Kelly s second claim to the Senate committee, that 500,000 Americans have died from narcoterrorism since 9/11, is a significant exaggeration . The real number of Americans who have died of post-9/11 terrorism in all its forms is well under 1,000, according to a 2014 study7 that was supported by the Department of Homeland Security .
And at least one-third of the 40,000 killed by drugs annually do not die, as Kelly claimed, from drugs coming into the U.S . across the southern border, but from overdoses of legally prescribed opioids . Almost all of the profits from those addicts flow not to drug cartels but to pharmaceutical companies . Sales of legal opioids have quadrupled8 since 1999, particularly in those white, rural areas of the country9 where Trump s support is strongest. Kelly s claim of 500,000 deaths doesn t appear to be reflected in any known official numbers . The RAND Corporation, for example, estimated that less than 100 people in total10 died due to terrorism in the U.S . between 9/11 and 2009.
While it is true that drug-related violence poses an existential threat to Mexico and Central America, Kelly was wrong to suggest that is the case in the United States . The number of Americans killed each year in drug-related homicides is around 1,00011, according to the Bureau of Justice Statistics . That is one thousand too many, but it does not add up to the half million post-9/11 U.S . victims of narcoterrorism that Kelly claimed had lost their lives in his testimony before the Senate committee.
Prescription drugs make billions of dollars for Purdue and other pharmaceutical companies, said Kathleen Frydl, historian and author of The Drug Wars in America, by email . It may be preferable for John Kelly to pretend that narcotrafficking, rather than homegrown greed, lies at the heart of the opioid crisis.
Kelly s claim of 500,000 U.S . narcoterrorism deaths is more than a one-time slip of the tongue . He said the same thing later last year12 in a discussion at the Center for Strategic and International Studies:
our country is right at 40,000 dead a year, year after year, from another kind of terrorism, narcoterrorism the cocaine and the drugs and the network it travels on, it moves anything . Guns, women, other people, human beings . Uh, potentially terrorists . Potentially, anything . All you have to do is pay the fare . But the network is very, very well developed.
While the rhetorical link that Kelly makes between terrorism and immigration is central to Trump s pitch for sealing the U.S . border, new walls are just one of many ways that Kelly will likely carry out his agenda at the Department of Homeland Security . DHS is a very young, very large, and very powerful federal agency created 11 days after the September 11, 2001, attacks . It is roughly one-tenth the size of the Pentagon in terms of budget ($52 billion vs. $524 billion) and personnel (240,000 vs .
2.3 million), and oversees almost all of the federal government s operations relating to immigration . If confirmed by the Senate, Kelly will be responsible for a wide portfolio of security measures inside of U.S . borders, including responding to natural disasters, stockpiling vaccines, inspecting cargo, scanning luggage and passengers at airports, passing federal intelligence on to state and local police, and managing Secret Service protection for the president and his family.
Trump said he will triple the number of federal officers working to deport immigrants, and immediately deport13 2 million to 3 million people now living on U.S . soil . He has called for the extreme vetting of Muslims trying to enter the U.S., and perhaps banning entirely those seeking entry from certain countries, such as Syria. Kelly will be the first military officer to lead the agency, in a country with longstanding legal prohibitions14 against military involvement in domestic law enforcement . Kelly, like Flynn, another retired military officer, has frequently referred to the possibility that Middle Eastern terrorist networks could link up with human smugglers to move operatives or weapons of mass destruction across U.S . borders, a persistent fear in government circles . It has never been conclusively disproven as a possibility, nor has it ever demonstrably taken place .
Adam Isacson, who covers security for the Washington Office on Latin America, said that Kelly perceives the region in terms of complex networks of criminals looking to do ill within the United States . The potential for cross-border terrorism threat should not be completely discounted, he added . You only have to be right once, he said. The southern border narcoterrorism scenario was also graphically depicted in the 2012 film15 Act of Valor, produced with the help16 of the Navy and active-duty Navy SEALS . Real-life investigations into the drug-terror connection tend to turn up less spectacular results, as recent investigations by Pro Publica17 and The Intercept18 have shown.
Russell Baer, a spokesperson for the Drug Enforcement Administration, said there was no official tally kept of deaths caused by narcoterrorism . There s no specific way to answer that question, he said, by email . Narcoterrorism has more to do with using drug proceeds, or drug money laundering services, to support a terroristic cause throughout the world . We are all victims of narcoterrorism. Trump s transition team did not respond to a request asking them to clarify or explain Kelly s remarks.
Top photo: Marine Corps Gen . John Kelly, former head of U.S . Southern Command, testifies with other military officers at a Senate Armed Services Committee hearing to review the 2014 Defense Authorization Request.
References
A masked gang armed with shotguns stole hundreds of thousands of pounds in a raid on a security van delivering cash to a branch of Asda1 supermarket2 .
A store in Essex was placed on police lockdown – meaning shoppers could not enter or leave – as cops hunted for the armed robbers wearing balaclavas who struck during the school run at around 8.30-9am. There is no report on the condition of the security guards. This lunchtime a white Loomis security van could be seen being guarded in a corner of the Asda car park in Highfields Rod, Witham, which had been cordoned off by police officers.
Essex Live3 reported that police confirmed that three gunmen made off with a six figure sum of money – some reports claimed there were four people involved.
The trio fled the scene in a black 4×4 vehicle – possibly a BMW X6.
The store was placed on lockdown as the armed gang were hunted (Photo: SWNS)
Carl Courtney, a spokesman for Loomis Security, said: "We can confirm it's a Loomis van and it was an armed gang, we understand there was at least four people.
"We won't be talking about the loss at this time, it will take a while to be calculated."
Bruce Mann, whose bungalow overlooks Asda, told Essex Live4 : "I'm sorry about what happened and I hope the security guard is OK, but it doesn't surprise me at all.
Read More
"It is just a sad reflection of today's society.
"I don't understand these people because they must know the cash is going to get covered in dye.
"Interestingly, you couldn't see anything this morning because of thick fog.
"I usually am able to see the railway line, but this morning I couldn't."
Police are scouring the area for any clues (Photo: SWNS)
While police maintained the cordon at the supermarket, more officers were spotted in Speedwell Close, less than a mile away from Asda, examining a number plate apparently left strewn by the roadside. A resident who lives near Asda, but who wished to remain anonymous, said: "My wife came round at 9am.
"They were waiting for police then, so I reckon it must have happened at around 8.30am.
"The level of crime is getting ridiculous . That's why I think more pressure should be placed on the police.
"They say the cutbacks have no effect but is that really the case?
Read More
"I reckon we've had about 20 burglaries recently on this estate and the Halifax was recently done on the High Street.
"The problem round here is it's very easy to get out to the country."
A police car was also seen parked up on the road in and out of Witham on Junction 21 of the A12, apparently on the lookout for the suspects.
The incident comes just days after a teenage boy was arrested on suspicion of robbery after a convenience store in Honeysuckle Way, Witham, was targeted.
References
^ supermarket (www.mirror.co.uk)
^ Essex Live (www.essexlive.news)
^ Essex Live (www.essexlive.news)