back-to-top
Football clubs should ban bags at grounds, according to a former national counter-terrorism adviser. Newcastle have already asked fans not to take bags to matches, a move welcomed by one of the club s fans groups. But Lee Dodderidge believes the heightened terror threat means clubs should bar the vast majority of fans from carrying bags to matches to minimise the need for searches and reduce the security threat.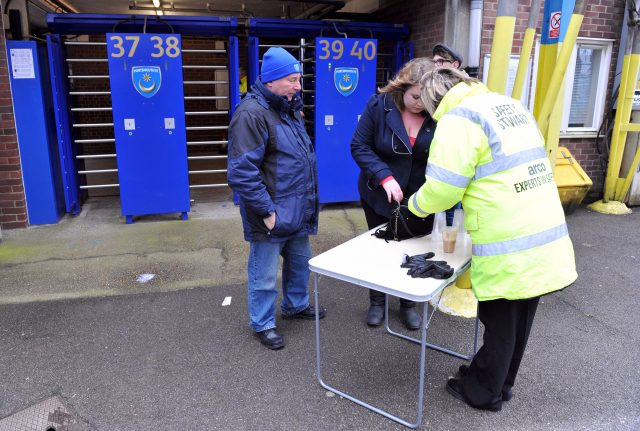 Security staff check bags at an entrance to Portsmouth s Fratton Park ground (Daniel Hambury/EMPICS) Dodderidge, who also advised on security at the London 2012 Olympics, told BBC Radio 5 Live: Venues like stadiums, there is a high volume of footfall where they ve got to get people in as quickly as possible. In today s current climate, where terrorist groups are looking at targeting large groups of people like the vehicle attack that we ve just witnessed in Barcelona, you can remove that opportunity by not having large amounts of people waiting for people in front of them to have bags searched.
We have to make sure that people can come and enjoy a football match, but in doing so make sure that everybody else is safe coming into a football stadium. Newcastle issued advice to fans attending games, including reinforcing the club policy to search all bags at entry points to the ground and asking fans to minimise what they carry to matches.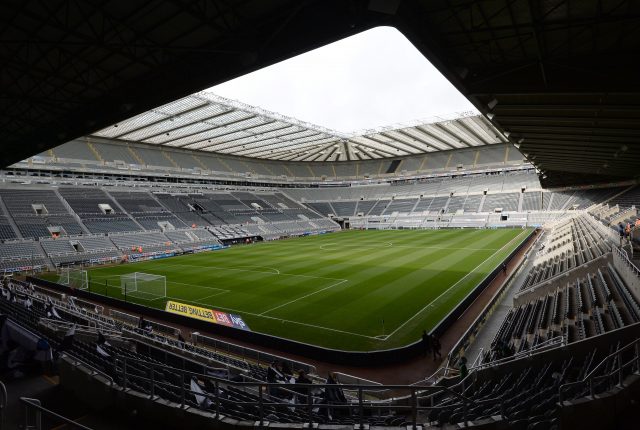 Newcastle United s St James Park (Anna Gowthorpe/PA)
Steve Storey, head of safety and security at Newcastle, said: The safety of all supporters is of paramount importance to us and various measures have been introduced to improve security in and around the stadium. Whilst the police are keen to emphasise that there is no intelligence to suggest that our stadium is a target for any terrorist activity, these measures are a reasonable and proportionate measure to take in light of recent attacks elsewhere. Steve Hastie, of the supporters group NUFC Fans United, said on 5 Live: Bags have always been searched at Newcastle United, that s been a prerequisite.
We get searched to make sure we are not bringing in alcohol, pyrotechnics and that type of thing. It s part of a much, much bigger security operation that s been taking place outside the ground.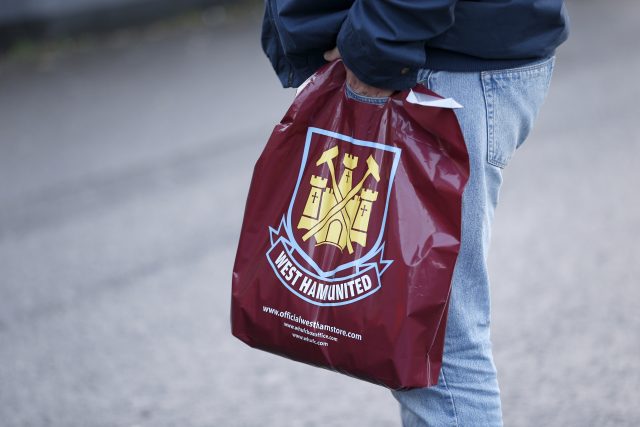 (Steve Paston/PA)
Premier League and EFL clubs were advised on ground safety, including bag searches, during summer security briefings at Wembley and Old Trafford. Karen Eyre-White, the chief executive of the Sports Grounds Safety Authority, attended the briefings and believes clubs should decide on an individual basis if they want to impose a ban on taking bags to grounds. Eyre-White told 5 Live: It is a huge logistical challenge . It s absolutely essential that this segues with other safety plans that the grounds have got in place . There s a real challenge around searching bags. Eyre-White did not suggest a blanket ban, adding: I think it needs to be down to each ground . The searches that need to be done at each ground will be different .
It s for clubs to work with local police experts, which they are doing, in order to work out what measures work at their ground.
Strict security measures are likely to remain for the third of a series of gigs at Slessor Gardens, organisers say. A heavy police presence was in place as 11,000 fans watched Little Mix at the venue on Thursday. Along with armed officers patrolling the area, fans were warned to expect searches and urged to leave bags at home where possible.
Some revellers claimed afterwards that security at entry points had been lax. However, Sarah Craig the council s city centre manager insisted security had been tight, and believes that ll be the case at Olly Murs show on July 20, despite Thursday s event going without any safety issues. She told the Tele: There were no issues of items being found, but bags were searched thoroughly and persons were being searched . We take our real-time intelligence from the police at the time and factor that into the events, given the current climate over the UK and further afield.
We take guidance from police and factor into our plans accordingly . Given that Olly Murs is only four weeks away I would anticipate the same level of searches, but that could be subject to change.
Otherwise, Ms Craig said there were no major plans to change arrangements for next month s concert. A small number of people complained about drunken behaviour, traffic jams and smaller fans being unable to see the stage, in the wake of the event. But Ms Craig said it was up to revellers and bar staff to be responsible , but added there had been no major issues caused by alcohol.
Regarding visibility, she urged fans to check the details of planned events as Little Mix was always advertised as being standing-only adding that most young fans seemed to be loving it on Thursday. Regarding local road closures, she said: We slightly tweaked the traffic between the UB40 concert and Little Mix . Yes, there were some delays in the immediate area, but we got the traffic flowing quite well, and there was no significant feedback or complaints about the hold-ups.
She also praised the promoters and Little Mix for engaging with local businesses after the group were spotted staying at the nearby Malmaison hotel.
When one compares cyber security today to what it was ten years ago, the two are almost unidentifiable as the same industry . The iPhone had only just launched; Facebook was still in it s infancy; the Internet of Things (IoT) was still a dream . The routes a hacker could use to access a system were limited, and because of this, cyber security was built around walls . One was encouraged to block attacks with firewalls and other perimeter security that could be plugged into existing systems . There was no wider strategy, with little thought given to what would happen if those walls were breached . This created a very segmented landscape, made up of a multitude of different products, all with varying capabilities and from different suppliers. Today s landscape is utterly different .
The routes into a system are so numerous they are impossible to police effectively, with the IoT making this problem greater by the day. Yet this same technology that is causing a headache for cyber security professionals is the exact same technology that can help drive a business forward . Consider the transformational potential of IoT . Data between previously distant departments or operations can now be collected, shared and used automatically, dramatically improving the efficiency with which those two business areas work. The consequences for cyber security, however, are serious .
Access across a large multinational corporations systems can be gained through one chink in the armour of one small department . Recent hacks have shown this time and again . The hack against Target, one of the biggest ever and responsible for the loss of details of 110 million customers, stemmed from a phishing attack on a contractor1 . USB sticks infected with malware are an ever-present threat; once plugged in, hackers quickly spread throughout an organisations system and begin to do serious damage . This has been proven to chilling effect in the health sector,where patient monitors have even been accessed2. To counter this, the cyber industry must work to develop a security protocol a standard that can operate effectively across all different elements of modern, large-scale computer systems; a system of systems . Such a protocol will allow for the effective identification and quantification of any security and privacy issues in any part of a business IT systems .
Other industries have used similar models of ever-presenting testing and evaluation to ensure their services are as rigorous as can be . Engineering, constantly evolving since the industrial revolution, is built upon testing . From product design through to end-of-life decommissioning, the industry constantly tests the performance and capabilities of its devices. A system of systems will allow cyber security to the same . All parts of the IT supply chain, from the service provider to the OEM; the management consultancy to the market researcher; all will be able to scrutinise their business operations from a cyber security stand point, and all to the same high level of quality.
This will align with and be underpinned by the National Cyber Security Strategy, supported by the NCSC . It aims to create an ecosystem of innovative and thriving cyber security by bringing together the best minds from government, academia and the private sector to deliver this system of systems, solving the issues presented by a divergent and complex online world . It will be the beginning of a new era of cyber security protection, based not on unrealistic goals but on our ability as a nation to mitigate and minimise risk through collaboration .
It will give the UK and its population assurances that its data and systems are safe and the base from which a successful digital economy can flourish.
References
^ stemmed from a phishing attack on a contractor (www.theinquirer.net)
^ where patient monitors have even been accessed (securityevaluators.com)