Security News
Reference Library – Security News
One member of European security watchdog OSCE's monitoring mission in eastern Ukraine was killed and two others were injured after their vehicle drove over a mine near Luhansk.
An American man was killed and a German woman was injured on Sunday morning, a spokesman for Austria's foreign ministry said . Austria holds the rotating presidency of the Organization for Security and Cooperation in Europe (OSCE).
Germany's foreign ministry said two were injured, but gave no immediate details . The OSCE confirmed on Twitter that a patrol with six members and two armoured vehicles had been in a "serious incident" but gave no further information.
Three years after Moscow annexed the Crimean region, tensions between Ukraine and separatists in the Russian-held eastern part of the country remain high and a 2015 ceasefire agreement is violated regularly.
The Ukrainian military said the incident took place at 10:17 local time (0717 GMT) near the small village of Pryshyb, which is controlled by pro-Russian separatists.
The unarmed, civilian OSCE mission with more than 700 international observers was deployed in 2014 . The role of the monitors includes verifying the withdrawal of heavy weapons as agreed under the 2015 ceasefire agreement.
"It is a terrible tragedy," German Foreign Minister Sigmar Gabriel said in a statement, calling for "an immediate end to the violence and unjustified accusations, especially on the part of separatists in eastern Ukraine."
"It is in the interest of everyone involved, especially the conflict parties on the line of engagement, that OSCE observers are able to carry out their important, indispensable, and at once difficult and dangerous work," Gabriel said.
Ukrainian President Petro Poroshenko and Austrian Foreign Minister Sebastian Kurz on Twitter both called for an investigation of the incident . Kurz said he had spoken to the mission's ambassador, Ertugrul Apakan.
"Need thorough investigation; those responsible will be held accountable," Kurz said on Twitter.
A spokesman for the OSCE said further information would be released as it became available.
The 57 member states of the OSCE, which include Ukraine, Russia and the United States, in March extended its monitoring in Ukraine by a year.
Gabriel said the OSCE patrols had clearly prevented a more serious military escalation in recent years.
(Reporting by Brenna Hughes Neghaiwi in Zurich, Francois Murphy in Vienna, Pavel Polityuk in Kiev and Andrea Shalal in Berlin; editing by Jason Neely)
French voters have started casting ballots for the presidential election in a tense first-round poll that is seen as a test for the spread of populism around the world. More than 60,000 polling stations opened on Sunday for voters who will choose between 11 candidates in the most unpredictable election in generations.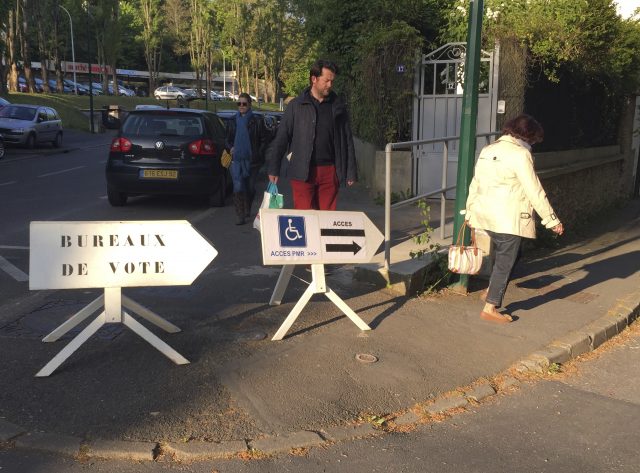 Polling stations open in Paris. (AP/Bertrand Combaldieu)
Opinion polls point to a tight race among the four top contenders vying to get into the May 7 presidential run-off that will decide who becomes France s next head of state. Polls suggest far-right nationalist Marine Le Pen and Emmanuel Macron, an independent centrist and former economy minister, were in the lead. However, conservative Francois Fillon, a former prime minister, appeared to be closing the gap, as was far-left candidate Jean-Luc Melenchon.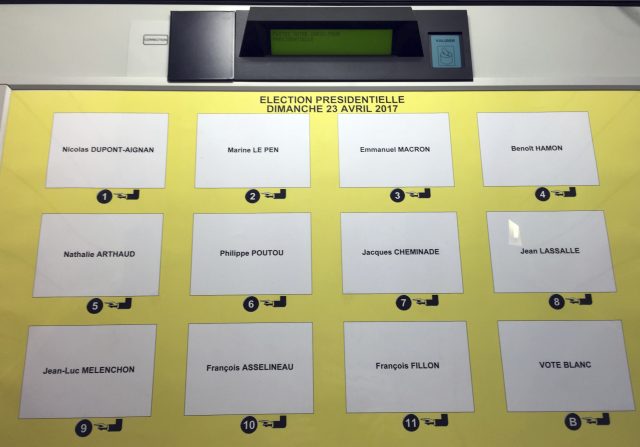 A voting machine displays the names of the 11 candidates. (AP/Bertrand Combaldieu) France s 10% unemployment rate, its struggling economy and security issues topped concerns for the 47 million eligible voters. If Ms Le Pen or Mr Melenchon win a spot in the run-off, it will be seen as a victory for the rising wave of populism reflected by the votes for Donald Trump and Brexit.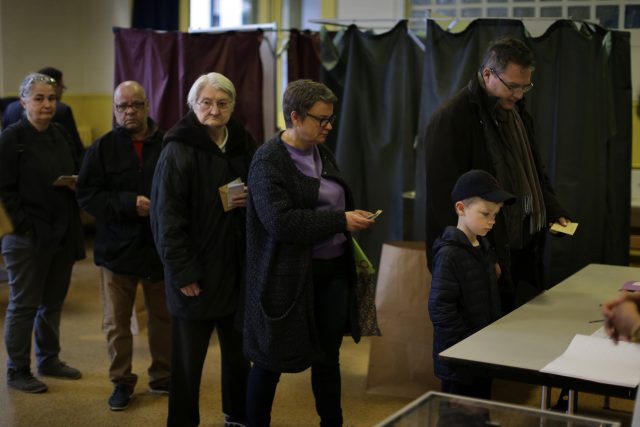 People line up before casting their vote. (AP/Emilio Morenatti)
Mr Macron and Mr Fillon are committed to European unity and would reform employment rules.
Early voting began on Saturday in France s overseas territories.
Polling stations for the first round of the French presidential elections have opened amid high tensions and tight security following the latest terrorist incident in Paris.1
The latest polls show a surge in support for both the far-right candidate Marine Le Pen2 and far-left contender Jean-Luc Melenchon3, with a total of eleven candidates battling to go through to the run-off. Nationalist Ms Le Pen and independent centrist Emmanuel Macron4 remain favourites for the final round, but this election is regarded as one of the most unpredictable in recent history because of fears over Islamist terrorism coupled with a 10 per cent unemployment rate and a faltering economy. Centre-right candidate Francois Fillon5, a former Prime Minister whose early campaigning was damaged by corruption allegations that his wife was paid but did no work as his parliamentary aide, appeared to be closing the gap, along with socialist stalwart Mr Melenchon.
With fears of possible further terrorist attacks, the French Government has mobilised more than 50,000 police and gendarmes to protect 70,000 polling stations, with an additional 7,000 soldiers on patrol. It is likely to be a close call between the top four candidates to get into the two-horse run-off on 7 May, with Fillon and Melenchon polling just two to three points behind Le Pen and Macron, meaning the decision could rest in the hands of the third of voters who have yet to make up their minds. The French go to the polls with Friday s terrorist incident fresh in their minds after a gunman carrying a note in support of Isis killed a Paris police officer Thursday before he was shot dead by security forces.
Polling stations opened in the Atlantic Ocean territories of Saint Pierre and Miquelon as well as French Guyana in South America, the Caribbean's Guadeloupe and elsewhere . Voters abroad could also cast ballots in French embassies, with polls across France opening on Sunday. Political campaigning is banned this weekend until the polls close across France and online. Marine Le Pen pledges to expel 'foreign extremists'
Ms Le Pen and Mr Fillon cancelled their final campaign events on Friday in the wake of the gun attack by Karim Cherufi, 39, but this did not stop Mr Macron from accusing the pair of trying to capitalise on terrorism with their hard-hitting anti-immigration messages and pledges to get tough over security.
Former investment banker and economics minister Mr Macron said that following the attack, it was vital that the French people summoned a spirit of responsibility in what is an extreme period and reach a measured response to a tragic event which has left our country in grief. He pledged that if elected, he would create a special unit that would work around the clock to tackle Isis, calling the fight against terrorism a moral challenge a challenge for civilisation. Ms Le Pen accused successive French governments of being too soft on extremism, and demanded the immediate expulsion of any foreigners with links to extremism or who are deemed to pose a risk to national security.
The Islamist, Salafist ideology has no right to be in France and should be banned . Preachers of hate should be expelled and their mosques closed, she said.
Mr Fillon said: For years I have been warning that we are confronting an Islamic totalitarianism: in other words, an ideology that is radical, organised and expansionist Whose goal is to destroy our civilisation and crush all enemies from south-east Asia right up to west Africa. Messages from both said France was at war with radical Islam, which they described as expansionist, organised and barbaric. Tensions threatened to boil over once again in Paris when a knife-wielding man caused widespread panic this afternoon at the Gare du Nord train station, although he was arrested without anyone being hurt.
Well-wishers paid their respects on Saturday at the site of the shooting which has become a shrine of flowers, candles and messages of solidarity for the slain police officer, Xavier Jugele. The attack dominated French headlines as the polls opened, but some liberals said they believed French stoicism will prevent an anticipated late lurch towards Ms Le Pen.
These 48 hours are not going to change everything .. . Terrorism is now an everyday occurrence . It's permanent, 24 hours a day . So we're not afraid .
If we're believers in freedom, we must live with it, said Marise Moron, a retired doctor.
I'm not going to let myself be influenced by people who are trying to frighten us, Paris resident Anne-Marie Redouin said near the heavily-guarded Eiffel Tower. Others, fearful that Ms Le Pen has been strengthened by the instability, said they would shift their votes from fringe candidates in the hope of keeping the far-right out of power.
With an attack such as this one, I think the National Front will get a good result . Therefore I'll change my intention and cast a useful vote either Melenchon or Macron, said physics teacher Omar Ilys, 44. The French pick for President could resonate far beyond the country s own shores, with implications for the UN, the Syrian war and refugee crisis and world trade.
Crucially, the election is also widely viewed as a ballot on the future of the European Union, following the imminent departure of the UK . Both Ms Le Pen and Mr Melenchon would like to pull France out of the 28-nation bloc and its shared Euro currency a so-called Frexit. Police in front of the Eiffel Tower in Paris the day after a gunman opened fire on officers on the Champs-Elysees (Getty Images)
A French exit could sound the death knell for the EU, the euro and the whole idea of European unity that was borne out of the bloodshed of World War II . France is a founding member of the EU and its main driver, along with former rival Germany.
Financial markets appear jittery over a possible Frexit, but Le Pen's team is downplaying possible apocalyptic scenarios and arguing that the euro is headed for an inevitable break-up in any event. If Ms Le Pen or Mr Melenchon take a spot in the runoff from either of the more centrist candidates, it will be seen as another major triumph for the wave of anti-establishment populism reflected in the choices for Brexit and for Donald Trump. Mr Trump tweeted that the latest terrorist atrocity would have a big effect on the election outcome, claiming: The people of France will not take much more of this.
Many French workers who have lost out through globalisation have expressed discontent at the established parties and are attracted by the promise of a change from the status quo, whether from the far-right or the far-left. Both Mr Macron and Mr Fillon are committed to European unity and have pledged to reform employment laws, with Mr Macron claiming he will counteract the protectionist policies of Mr Trump. In common with Mr Trump and his "put America first" mantra, Ms Le Pen and Mr Melenchon have blamed free trade pacts for killing French jobs and have pledged to renegotiate them.
The count will begin on Sunday evening when polls have closed across mainland France.
Additional reporting from agencies
References